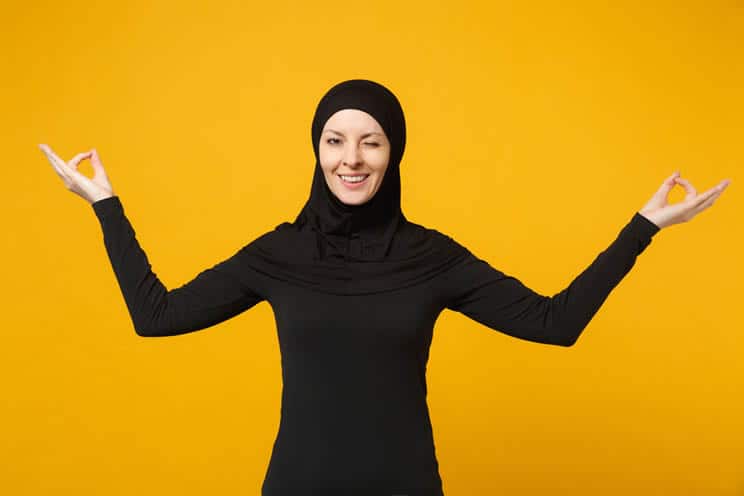 Like all other weddings, Muslim marriage is an entire party filled with joy for the bride and groom, bridal party, family, and friends. There isn't a specific rule set on the colors and attires to wear to such a wedding. Many factors are highly dependent on the part of the world you reside in and the Muslims' culture there.
So, can you wear black to a Muslim wedding? Black clothing in many Muslim cultures is associated with funerals, so it definitely shouldn't be among the top considerations for a Muslim wedding. However, in some Muslim localities, it is maybe fine to dress in black for weddings. The safest option is to inquire from the bride or groom about their notion towards the color.
Most people feel that as long as the dress is long, they should be good to go, which is accurate; however, there's much to consider about your choice of dress's color when attending a Muslim wedding. Read on to find out when it's appropriate to wear black to a Muslim wedding and when to choose a different option.
Can You Wear a Black Dress To a Muslim Wedding?
You maybe able to wear a black dress to a Muslim wedding but first of all, do not shy away from a direct inquiry on how black for weddings will be perceived. Completing the investigation will only show that you are polite and keen on respecting their religion—nothing else.
If reaching the bride and groom is hard, then opt for any other color outside black. Besides, the Muslim wedding culture is very welcoming to colors, so see it as an option to try new colors.
Many people love black dresses since you probably already have a black dress. Black dresses also have a slimming effect, fewer staining chances, and easily slides into any theme. It's easy to want to stick to black, but see it this way, you can wear that black dress any other time. Add color to your wardrobe with a new dress.
Some people are naturally conservative with their colors and prefer outfits in darker shades. If this is you, try out a mono-colored flowing maxi gown. Pair up your maxi with a long, slightly brighter colored jacket. The simple maxi will serve your conservative color preference, while the coat ensures you're still adding color and breathing life into the event.
After death, the deceased family members clad themselves in black clothes for forty days. If the deceased was a man, the widow proceeds to wear black for a full year. Funeral preference does not dictate the exclusion of black as an option to wear to weddings. The wedding couple might tell you black will do; the key is in asking.
Can You Wear White To a Muslim Wedding?
Though not exclusively, white is the general color worn to Muslim funerals and not weddings. The color symbolizes purity, wholesomeness, and humility in the Muslim religion. In such cultures, you may be distasteful to dress in white in localities that observe this. The bodies of the deceased in Muslim funerals get adorned in white sheets.
In many Muslim localities, white is also the official attire for weddings. Muslim brides in North America, for instance, will more often than not wear white. If you speculate this, you should avoid white. Otherwise, you might risk dressing in the bride's choice of color.
A quick research on other Muslim weddings in the area may help with this. However, as said before, the most full-proof way to figure this out is inquiring from the couple inviting you.
Can You Wear Red To Muslim Wedding?
There isn't any rule barring you from wearing red to a Muslim wedding. Red is a beautiful color that simply looks stunning, especially on women. However, red is amongst the most common choices for Muslim brides. If the bride is not in white, then she is most probably dressed in red.
That said, we're back on the wedding etiquette rule of not wearing the same color as the bride. Being a favorite amongst brides, wearing red to the wedding might just be too much of a gamble. Inquire if you can; if not, maybe hold the brakes on that dashing red dress.
For other people, wearing red might make you outshine the bride. Red is a scientifically proven attractive color, especially on ladies. Outshining the bride might not be the best thing to look for in a wedding guest attire.
However, this aspect should not completely kick red outfits out of the picture; look for ways to throw a bit of red on your outfit. Mixing it with other colors also tones it down while still maintaining that lovely aura that comes with the color's sweetness.
Best Color Choices To Wear To Muslim Weddings
Every religion comes with its traditions and cultures. Muslim weddings are closest to Hindu weddings, which associate celebrations with lots of glory and pomp. Muslim marriages carry an aura of grandeur. Some specific colors will take you closer to that aura in Muslim weddings. So, if you are attending a Muslim wedding with no idea what to wear, here are some ideas that you can't possibly go wrong.
Green
Muslims consider green as a bright color, especially when worn during weddings. Therefore, it's a top pick to wear to any Muslim wedding. Try a green salwar suit, then add a touch of golden prints on it. Large golden earrings will blend perfectly with it. You'll get extra chic by throwing on a dewy makeup look to the outfit. Voila, there's no possible way that this look could fail you as a Muslim Wedding guest.
Silk
Silk is, by far, one of the most loved colors in Muslim and Hindu cultures. It's a top favorite in countries like India. Silk often holds the rapport for suitability for auspicious events like the wedding you're wondering what to wear too. Try out a transitional silk lehenga, then pair it with something simple like a dupatta.
A silk Lehenga will usually have silver or gold motifs that make it grand. Glossy makeup will best accessorize the look. There's a high probability that golden jewelry will blend seamlessly to complete the look.
Cream
A cream outfit will strike the perfect balance between standing out in the crowd while not appearing too flashy. Cream attires seem simple while still attracting the necessary attention. Better yet, if you wear simple silver accessories also, you'll look stunning.
A great option would be an Anarkali suit in pink for the Muslim Wedding reception when the reception's timing is in the afternoon or evening.
Considering Muslim weddings are ripe with accessories, you can use accessories to bring color to your outfit. The accessories are heavily colorful, whether in gold or silver. It is quite characteristic to find wedding guests in heavily embellished lehengas. Feel free to go as glamorous as your outfit demands and you'll fit right in.
Basic Attire Guidelines In Any Muslim Weddings
As much as traditions within the same religion will vary from location to location; there are a few uniform principles in any Muslim wedding setting. Muslims are conservative in dressing. It's generally not approved for women to show their skin. Her attire should cover her legs, chest, shoulders, and arms.
If the wedding is taking place in a mosque, you should bring a scarf to wear in the mosque. You'd also need to carry along long, thick socks to cover your ankles if the wedding is in a Mosque. The socks are a necessity because women remove their shoes when entering the mosque. Jewelry is a favorite in the religion.
A long skirt or dress with a high neckline and long sleeves will do the trick.
Muslim Wedding Attire Tips
Finding the correct attire in a new religion or culture might get very confusing. You're only trying to observe and respect the faith while still looking good in your clothing. So, how do you achieve this? Here are a few tips to get you started landing that great comfortable look as a Muslim wedding guest.
Glam Your Outfit Up
You risk feeling underdressed and feeling shadowed when you opt for a minimal look. Expect other female Muslim guests to top the notch with the glam, from golden glitter accessories to fancy hijabs and lovely henna art. Expect nothing short of glam in this wedding. Have that at the back of your mind when picking an outfit
The easiest way around glamming up is picking a moderately glam dress, then slowly adding up your accessories. That way, you'll find the perfect time to stop adding more to the attire. Feel free to try out jewels on your temples and forehead; this will give you a Muslim feel if that's what you are going for.
Never Wear the Same Color as the Bride
In a Muslim wedding, it is the most important day for the bride and groom. The bride is the spectacle of the event. If this is your first Muslim wedding, chances are you will gasp at the sight of the bride. The bride's gown is often a dashing sight to behold.
Like any other religion, a Muslim wedding is essential to the bride and groom. If you're close to either of the two, chances are that you might get a whiff of the color they are planning on wearing. You must avoid those colors.
It's just an unwritten law in wedding etiquette. Avoiding standard bride colors ensures that the bride and groom stand out. Standing out and often looking better than everyone else in the crowd is an ingredient in making a wedding ceremony extra special for the bridal party.
Having looked at the most common colors for Muslim brides as red and white, begin your shopping spree by eliminating the two. However, this is not full proof, and you might just find yourself in the same color as the bride. In such a scenario, don't be too hard on yourself; they are called coincidences for a reason.
Get A Muslim Designer
If you are still feeling clueless or in doubt of your choice, contact a designer. There are a host of Muslim designers that you can approach to assist you. A designer will advise you on colors and even guide you on options for Muslim attires. Designers do not have to be physical; a simple search on your computer will lead you to dozens of Muslim wedding designer blogs.
Etiquettes To Observe in a Muslim Wedding
Dress code is a significant difference between Islam and other religions. Aside from that, there are a few other differences that might get you off guard at the wedding. Here are a few expectations to have in mind when attending the wedding.
Modest Dressing
Mosques are very solemn places; even for a wedding ceremony, Muslims will always dress modestly in the mosque. Generally, expect to find long dresses and skirts or long pants. Folks from either gender will avoid exposing their bare arms. You will find the women here have covered their heads. The dress code is the same in the reception, apart from keeping your head protected.
Removal of Shoes at the Mosque
Muslim believers pray on a carpet in the mosque. During the wedding ceremony, believers remove your shoes so as not to track dirt into the carpet. The mosque is also considered a holy place that should not track dirt from shoes.
You will find a rack to place your shoes when entering and retrieve them at the same spot when leaving. Therefore, you are required to carry a clean pair of socks to cover your legs after removing your shoes. If possible, wear sandals as they are easy and convenient to remove and wear.
Men and Women Sit Separately
Muslim marriage ceremonies feature gender celebration at the mosque. At the reception, you'll likely find the same though to a different degree. An example is the allocation of separate rooms for women and men to celebrate. Others are as simple as designating some tables for men and others for women. Your hosts are more likely to place you at a table with other non-Muslim ladies.
Gender Mingling Isn't Welcomed
Suppose you are attending your first Muslim wedding; it is advisable to hold your horses on the reflex to make friends. More specifically, mingling with the other gender on the dance floor is not exactly a celebrated attribute. Refrain from shaking hands, dancing, or initiating physical contact with a man. If a man creates or prompts the interaction, it is perfectly okay to proceed with the warm exchange.
A Muslim Wedding May Involve Many Cultures
A Muslim wedding is a simple indicator that the couple is of the Islamic faith. Faith is separate from the culture of the people. Therefore, an American, Asian, African, African American may practice the Islamic religion. The indifference in culture could mean your first Muslim wedding may double up as your first Indian, Nigerian, or another culture's wedding.
That said, the culture may also add different cultural expectations. However, the dress code and color guidelines here are uniformly observed by Muslims from whichever corner of the world you are attending a wedding.
Muslim Weddings Are Quite Short and Sweet
An average wedding ceremony in religions like Christianity may last no longer than an hour. Still, Nikah, the Muslim marriage, is highly likely to be the shortest you will ever attend. A Nikah ceremony will have three parts:
Mehr
Mehr is the ceremonial part where the groom offers gifts, money, and other meaningful offerings to his bride. Often the engagement ring is considered part of Mehr. The two are at this time not allowed to see each other. They then recite the qubool hai thrice to consent to the marriage.
Nikah-Namah
Nikah-Namah refers to the marriage contract. The groom and bride sign the contract in front of all their guests. A short sermon with verses read from the Koran takes place, and the couple officially weds.
Savaqah
Savaqah is the final part of the ceremony. The couple recesses from the actual ceremony while the bride gets showered in coins to celebrate the union.
Dressing for a Muslim Wedding
Owing to the lack of written law on what to or not to wear to a Muslim wedding, your attire will depend on your locality. The level of rigidity of the Muslim family wedding will also affect this decision.
Black, white and red are risky attire color choices, so you should cross-check with the local customs before picking either. If you are unable to make out whether any of these colors are allowed fully, play it safe by avoiding them.
Muslim Weddings carry a lot of life. They have an outstanding balance of calmness and sereneness against recreation and fun. Those bright greens and pinks are favorites for Muslim weddings; try them. You are at liberty to pick a style statement.
Above all, keep modesty and conservativeness in mind. Pick yellows, maroons, and oranges if you wish. Finally, a flowy outfit is bound to have you feeling comfortable at a Muslim wedding.