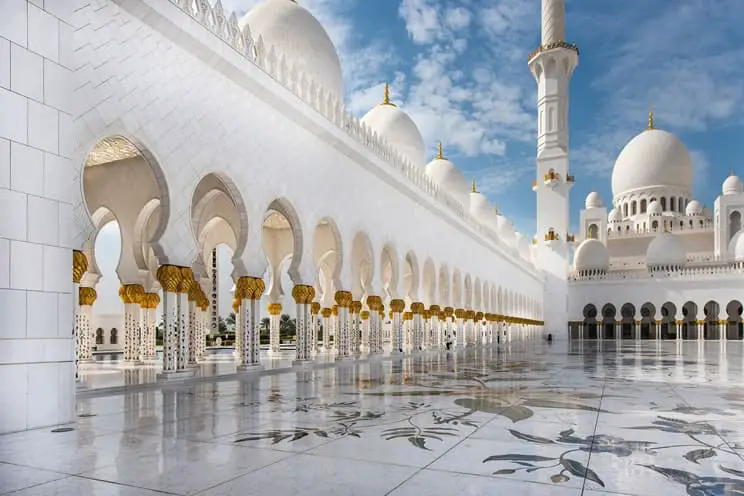 Usually, a Muslim wedding is a chance to invite all your friends and family to help you celebrate one of the most important days of your life. Therefore, the wedding venue is a top priority during the preparation. It would be best if you had a venue that works best for you and all your guests.
So, where do Muslim weddings take place? Typically, Muslim weddings occur at the mosque, but this is not compulsory. Some couples decide to have their weddings outdoors or in hired function halls, while traditional weddings occur at the bride or groom's home. However, modern couples may decide to conduct it at a sports club, museum, hotel, learning institution, or park. The choice of venue solely depends on how religious or traditional the couple is.
Generally, an Islamic wedding is an auspicious large-scale event, so you may wish to know the perfect venues for your wedding. We help you learn what you need to consider when picking a venue, the features of a good location, and the helpful tips you need before deciding. Read on as we help you find a befitting venue for your wedding.
Why Is the Venue Choice Important?
Is it such a big deal to find the right wedding venue? We know that without a venue, there is no ceremony! Therefore a wedding venue is one of the first decisions that the partners make. Let's look at why a couple must find the perfect venue.
First, the wedding venue creates an ambiance for your wedding. When it aligns with the theme, you can incorporate your style and set the entire event's mood. If you are going for a vintage wedding, find a venue that blends with the theme. Similarly, if you wish for a laid back setup, you can go for a simple venue.
You also need a venue that gives you the freedom to add a touch of your personality, especially if you wish to decorate it personally. On the other hand, if you want an easier time in your planning, you may go for a venue that does the decoration according to your specifications. Doing so allows you to focus your attention on other aspects of the ceremony.
When you find the best wedding venue, you are sure of a smooth flow of events for the entire ceremony. This decision will also help you avoid unnecessary hiccups that are common, especially during the last minute.
For instance, if you get an easily accessible venue, it will be easy for your guests and the service providers to locate it. This consideration may be a minute detail, but it helps to eliminate any inconveniences.
The wedding is a once in a lifetime event for the couple, so the venue choice should be picture-perfect. Since the photographs are necessary to capture these special moments, you need to invest in a venue that guarantees your big day's excellent pictures. Find the most picturesque location, consider the lighting, the quality of the photographs, and the backdrop for stunning pictures.
But finding the right fit may be an uphill task; hence, most couples opt to hire a wedding planner to help. With a great venue, you can comfortably incorporate all the activities of your big day. Similarly, the right choice may help you save money; by picking an affordable location, you can put the surplus money into other aspects of the ceremony.
Factors To Consider When Picking a Wedding Venue
A wedding is a momentous occasion for any Muslim couple; thus, it is common for them to invest heavily in finding the best wedding venue. The following are some factors to consider when picking the right venue for your wedding.
● Traditions
By choosing the right venue, you can maintain the cultural and religious aspects of your wedding. When your venue is perfect, you can observe all the celebrations' rituals and traditions, which would otherwise be limited by a small, poorly planned location.
Muslim weddings are mostly all about traditions and customs, so your choice will be dependent on your particular family's beliefs. For instance, there are the Nikah and Walima ceremonies, which are the main events and the reception, respectively.
Typically, the Nikah takes place at the mosque, but a couple may choose to have it somewhere else. For the Walima, there is a lot of merrymaking to celebrate the couple's union; thus, you may need a bigger venue for it.
There is segregated seating in most Islamic cultures, where the men and women sit differently; you need to consider whether your chosen venue caters to this aspect of tradition. Some venues may offer a divider, while others may have a separate entry for both genders. Similarly, other venues may provide male staff members to serve the men and vise versa.
Lastly, it would help if you considered whether the venue adheres to Halal principles of catering, given that most Muslims are religious when it comes to such matters. While some venues are strict with prohibiting outside caterers, others are very liberal in allowing you to bring in your own. You only need to find eateries that are Halal-certified and ask them to cater for the event.  
● The Guest List
It is essential to know how many guests will be present at the wedding. This consideration saves you time and makes it easier for you to look for the right venue. If the venue is too small, the guests will cramp up in a tiny space, which will limit their movement; you need a location that effectively accommodates everyone. On the other hand, picking a colossal space may be a waste of space and money. The best thing to do is to confirm in advance the number of guests that will show up so that you can plan adequately.
We know that most Islamic weddings are grand, with up to a hundred people on the guest list. This list consists of family, friends, and acquaintances from both sides, so it is only right to have the wedding at a perfect venue to accommodate all of them.
Even when doing so, you may wish to maintain the occasion's grandeur since most Muslim weddings are not very minimalistic. Otherwise, if you wish to invite only a small circle of close friends and family, then a smaller venue will do.
Where Do Muslim Weddings Take Place?
Islam has experienced liberalization due to modern social dynamics. Furthermore, so many countries, cultures, and ethnic groups practice the religion around the world. Hence, Muslim weddings vary depending on the culture and traditions of the couple. One important factor that depends on the culture or the believer's front is the choice of venue, especially among the conservative and liberal Muslims.
For instance, a Reserved Muslim will tend to be more traditional when choosing a wedding venue, unlike a Reformist who will be more flexible. Some believers choose simple and common venues, but others settle for fancier, more modern locations. The choice of the venue, therefore, entirely depends on the couple. Below are some sample venues that may be ideal for a Muslim wedding.
● Bride or Grooms' Home
Some traditional Muslim couples prefer to celebrate their Nikah at the bride or grooms' residence, whichever is more convenient. When at the bride's house, her parents organize the entire function, and certain events occur, such as the adorning of henna on the bride's hands and feet as she mingles with her female family and friends.
Having your wedding at either house will ensure that you follow all the Muslim traditions and is an effective way for the bride and groom's families to bond and strengthen family ties.
● Parks and Gardens
A Park or Garden venue is very convenient for a Muslim wedding, especially if it typically holds events like seminars and workshops. The surrounding environment provides an excellent view of your photoshoot and a relaxed, calming ambiance.
This choice is also ideal for countries that do not experience harsh weather conditions. If the county or state is generally humid, an outdoor wedding is preferable.
Choosing this venue may also be a welcome idea if the couple wishes to save on décor since the flowers and greenery at the site may suffice. Similarly, parks and gardens can accommodate more guests compared to other indoor venues. Some couples may even go further to have their weddings on floating decks, a unique yet stunning idea. 
● Institutions
The wedding venue that you and your partner decide on should go well with each of your interests. This way, it helps bring out the most of the celebration. You can discuss whether to add your relationship adventures to the ceremony.
For instance, if you met in college or a university, it would be ok to have your wedding in that particular place since it is symbolic of how you met. This choice is an excellent idea since most learning institutions have big halls that can comfortably accommodate many guests.
These venues would also be excellent choices, especially if the institution has kitchen equipment, making it easier for the hired caterers to work and lowers the couple's budget. The environment will also provide good scenery for photo sessions, capturing fantastic memories for both the bride and the groom's party. As long as you attach sentimental value to the venue, the event is sure to be more impressive.
● Museum and Animal Zoo
Although not so common, museums can hold wedding ceremonies too, but some have smaller guest capacities than others. Couples with smaller families may want simple functions, so they opt for a more miniature museum while others who want more significant celebrations choose bigger ones. The animal zoo is also ideal for animal lovers, and the guests will love seeing the animals too. 
There are specific reasons such venues are great options. First, the animals' natural beauty, and this will forever etch in the couple's and guests' memories. Also, the venue is picturesque, and you will undoubtedly get great photos.
One more important thing is that the couple can find traditional antiques at the museum to attach importance. This way, they will always remember the day when they revisit the museum.
● Hotel and Restaurants
Depending on the country or state, some hotels and restaurants are not Halal-certified. For the service providers who are already approved, couples would find it affordable to hold an event in such environments so that they can save on outsourcing for other food providers.
You may also notice that you end up lowering the charge on the cost per head if you invite more people. Having your wedding at a hotel and restaurant is essential since it is pocket friendly and there will be various amenities at your guests' disposal. Similarly, hotels with lodging services will be of great help if the ceremony is not a one-day event.
● Mosque
This venue may be the first go-to choice for some Muslim couples; however, most Muslims today are slowly shifting away from this norm. Some Non-Muslim friends and family members may wish to attend the ceremony; hence, having it at the mosque will bar most of them from attending. When the wedding takes place at a neutral location, everyone invited can show up since there are no restrictions.
However, most mosques nowadays offer wedding venues as well as everything you may need at affordable prices. They also offer equipment and other logistics at a friendly cost. Some even offer attractive packages according to the number of guests you invite.
Having your wedding at a mosque will ensure that your guests eat Halal-certified food, and you will enjoy the sacred and peaceful ambiance. Some mosques also refund booking fees in case of wedding cancellation.
● Sports Club
For couples with an undying love for sports, having a wedding venue at a sports ground is a great idea. If this sounds like you, you may wish to kick start your married life in a significant way.
Many would pick a sports club because it is a brilliant venue, and there are beautiful expansive lawns that offer a full experience for your guests and set the perfect mood for the ceremony.
Choosing a sports club may also be important since they allow outside caterers to serve meals according to Halal requirements. Furthermore, some sports clubs serve Halal-certified menus.
The good thing is that, to couples who are club members, some clubs offer discounts to have their weddings on the premises. This gesture saves on costs so that the surplus can channel to other wedding aspects.
Tips for the Perfect Wedding Venue
Maybe you don't have a particular location in mind, but you want it to be perfect for all the wedding activities. Here's a guide to help you find the ultimate wedding venue.
Suppose it's becoming a challenge to find the best location. In that case, it may be helpful to hire a wedding planner, especially if they know the Islamic traditions and have vast knowledge about wedding receptions in your area. A planner will always come in handy to save you time, money and to give you advice about the most convenient place to have your wedding.
One key consideration is your budget; you need to find a venue that is budget-friendly depending on the number of guests you have invited. Similarly, you need to confirm the venue's pricing policy, such as the cost of each plate or the hiring rate. In case the choice strains your budget, you may consider more affordable places or downsize.
Consider what the venue includes in their service charges. If the venue provides the furniture you will use, then the cost may be higher than if you bring in your equipment and furniture. The same case applies to catering. Consider whether they provide the food and drinks, whether it is Halal, and whether you can bring in your caterers. Always calculate your prices before you decide.
Remember to have your guests in mind when picking a venue. You need to be mindful of their interest, especially if most of them are traveling from far to come to your wedding. If so, then you need to pick a venue that has a hotel or is close to one. This way, your guests will have a place to stay when all the festivities are over.
You may wish to recreate your vision for the entire wedding through your choice of venue. So, the best decision needs to align with the theme you have in mind. This way, your guests can also see your personality shine through the choice of your décor and color palettes. Therefore, it's essential to find a venue that brings out your vision.
Finally
Muslims are not very strict in the wedding venue matters, and the Muslim leaders do not insist that it takes place at the mosque. All that matters is that the location does not violate any Islamic laws and that the couple can share this momentous occasion with everyone they hold dear. As long as they adhere to a Muslim wedding's principles, they have the go-ahead to conduct their ceremony elsewhere.
The rules of a Muslim wedding ceremony are lenient in that a member of the clergy doesn't need to officiate the marriage. Even a community leader can minister the Nikah. But in most cases, an Imam is appropriate. The bottom line is any choice about the wedding relies on the bride and the groom's traditions.