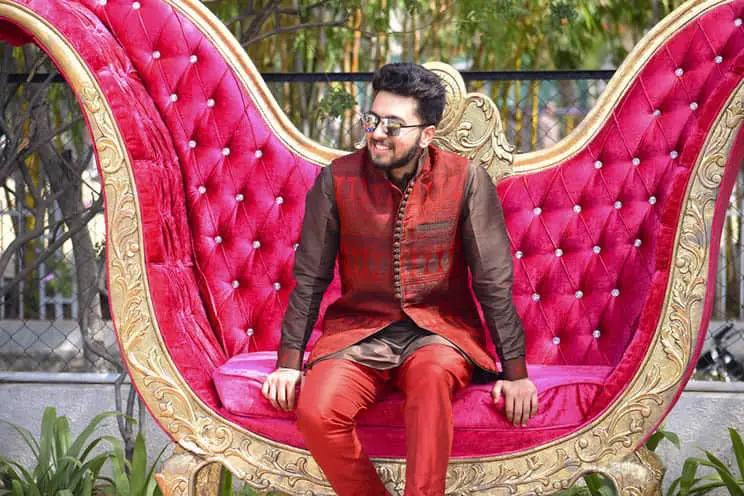 The groom's wedding day is remarkable, just as it is to the bride; therefore, he needs to look and feel stylish on his big day. We understand that finding the right outfit may be tasking since you want to make the best selection for such a once in a lifetime event. If you are a Muslim groom, there is a list of crucial things to consider in choosing the best outfit.
So, what do Muslim grooms wear? Each Muslim groom has a preference regarding his dress code; it also depends on his customs and traditions. Some wear traditional ceremonial attires, others go for modern styles, while others infuse both worlds. The conventional attire may be a kurta pajama or one with churidaar laced with some embroidery details. Others may opt for a sherwani with embroidery details. They may also accessorize with jewelry such as golden chains, rings, and bracelets. He can even go the formal way and wear a suit/ tuxedo.
This article gives you a complete guide to the most stylish and appropriate outfits for the groom. We show you the best clothes for the nikah, and walima and the tips you need before making your selection. Read on as we give you all the information you need.
Factors for Muslim Grooms To Consider Before Choosing their Wedding Outfit
Some people feel that the wedding is mostly the bride's affair; hence, they imply that most eyes will be on her and not the groom; this notion is entirely biased.
The day is also significant for you, the groom, a once-in-a-lifetime opportunity to marry the woman you love. Thus, it is understandable for you to want to look dapper on this auspicious day.
If you get the outfit right, both you and the bride will look perfect and will match in terms of style and wedding theme. Otherwise, a wrong choice may ruin the day altogether.
Picking the best outfit ensures that you blend with the bride, and you will look your best while you are at it. To help you make this critical decision, we highlight some aspects to consider before shopping for your outfit.
Build/Physique
Your dress code will rely on your size and stature. What works for a slim groom may not necessarily work for a well-built one; thus, you need to be keen on your wardrobe choice. With the right selection, you may complement your body and look stylish as well. If not, you may appear leaner if you are slim and more prominent if you are well built.
For the lean, get the right fit and stay away from baggy clothes, which will make you look slimmer. It is the same for the chunky groom; if you get a tight outfit, you will feel uncomfortable during the ceremony. You can consult with your tailor about the right fit for your body or have your stylist pick out the perfect fit for you.
Patterns and Materials
You may want to go for great looking patterns and fabrics that feel good on your skin. Here, you may also want to consider your physique since some complement a particular build. You need to find a material with a great color that matches your skin tone and body size. The garment should fit perfectly, be stylish, and have a great design.
We recommend moderate colors that go well for any groom. Similarly, ensure that you stay away from low-cut suits if you are going for the modern look. If you are a bit slim, we also advise that you avoid linen materials. 
Blending
You and the bride will be together for the more significant part of the ceremony; thus, you should have complimenting outfits. If you two do not have matching regalia, you won't seem coordinated, which may be readily noticeable. You wouldn't want it to appear that you did not consult before deciding on your outfits. The best way to go about this is to ensure that you work together with your stylist/ tailor to get blending attires.
Consider having rhyming colors, with one not outdoing the other. For instance, if the bride picks a bright lehenga, the groom's best choice would be a white or off-white attire. In contrast, if she chooses a bold color like red or pink, then the groom will easily blend in with a brown or maroon outfit.
Classical Look
If you are a groom who follows Islamic traditions to the latter, it should reflect in your outfit choice. Most grooms go for the traditional bold colors, synonymous with the conventional Muslim groom. Consider red, gold, and maroon, which are bold and go well with any body type or skin tone.
You may also add a personal touch to the outfits by adding embroideries and sparkles, which spruce up otherwise plain clothes. Again try sequins and stonework for that elegant touch. This look will match the bridal gown, especially if her dress is a lehenga with heavy embellishments.
Modern Look
In contrast, you may be a modern groom who wishes to go with the contemporary suit or a tuxedo. Importantly, the tuxedo is an elegant outfit that gives you a regal look. The conventional pant-suit is also a brilliant idea that works well for almost any groom.
The only trick is to find the best material with a great color that fits perfectly. The best choice may be the custom-made suit designed to fit your taste, personality, and style.
Consider your body type before picking a ready-made dress. For instance, a tall, slim groom may look dapper in a three-piece suit since it will make the chest and shoulders appear broader. On the other hand, a big-framed groom may need to stay away from this type of attire since it adds extra volume to the body.
The Theme
We always advise that the attire choice, for both the bride and groom, majorly depends on the theme. Consider the wedding theme before you pick your ensemble.
First, is your wedding traditional or modern? What is the theme color? Will your outfit match the wedding's color schemes? What is the general mood? It is best to answer all these questions when deciding on the perfect attire.
For instance, if the wedding is all about bold and bright colors, you may also need to go bold with your choice; maroon with golden embroidery details may work better. Wearing dull clothes may not blend in this case.
Moreover, it would help if you considered your wedding venue and timing. If it is an outdoor event, then the best choice would be light colors, especially if it is hot outside. In contrast, if it's an evening wedding, consider dull-colored clothes.
Reinvention
You can never go wrong with customizing and adding a personal touch to your outfit; hence, the best way to go is to personalize your wear. However, you may also choose to infuse your style with modern trends to get a unique garment.
Many grooms incorporate western ideas in their choices for a new, reinvented look. You can check Indo-western ideas to help you find a great look. Similarly, you can play around with your color choices and use different colors other than the orthodox maroon and brown.
Accessories
Accessories will always compliment a great outfit and lift any plain-looking attire. Most grooms go for silver and gold jewelry for an extra touch of elegance. One can have a chain, bracelet, cufflinks, and a ring that blends with the clothes.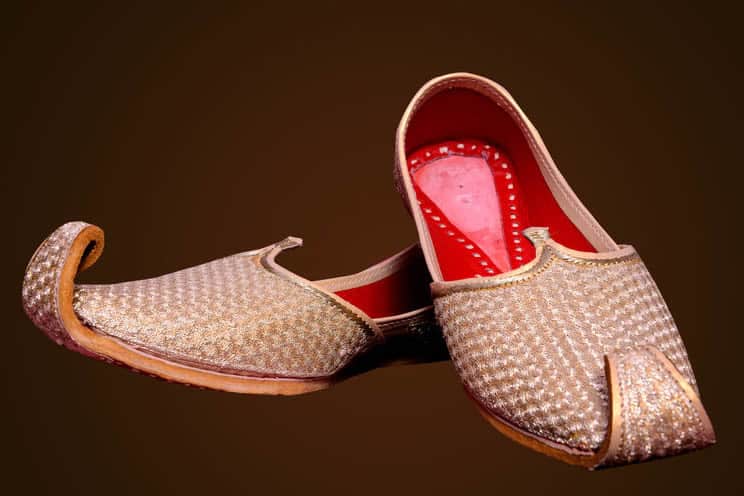 Also, the shoe choice is essential. The color and material should go well with the entire look. For instance, it may not work if you are wearing formal shoes with a traditional Islamic outfit. Secondly, choose low or high-heeled shoes, depending on your height and frame.
In the past, Islam weddings would take days to consummate; thus, the groom would adorn different outfits for different occasions. He would wear a dress at the nikah ceremony and a different one for the reception. However, in the present society, Muslims can perform a wedding ceremony in a single day or even for a few hours; hence, a single attire is okay.
What Do Muslim Grooms Wear?
Every Islamic wedding ceremony is a Holy event; therefore, every attendee must dress decently in long pants and dresses that do not reveal their skin. Traditionally, an Islam groom is supposed to wear traditional attire in all the wedding events, from the nikah to the walima.
The outfits are mainly sherwani kameez, kurta and in the contemporary world, a western suit will do. However, it depends on the groom's style and his customs and traditions. It also depends on your preference and what makes you feel comfortable.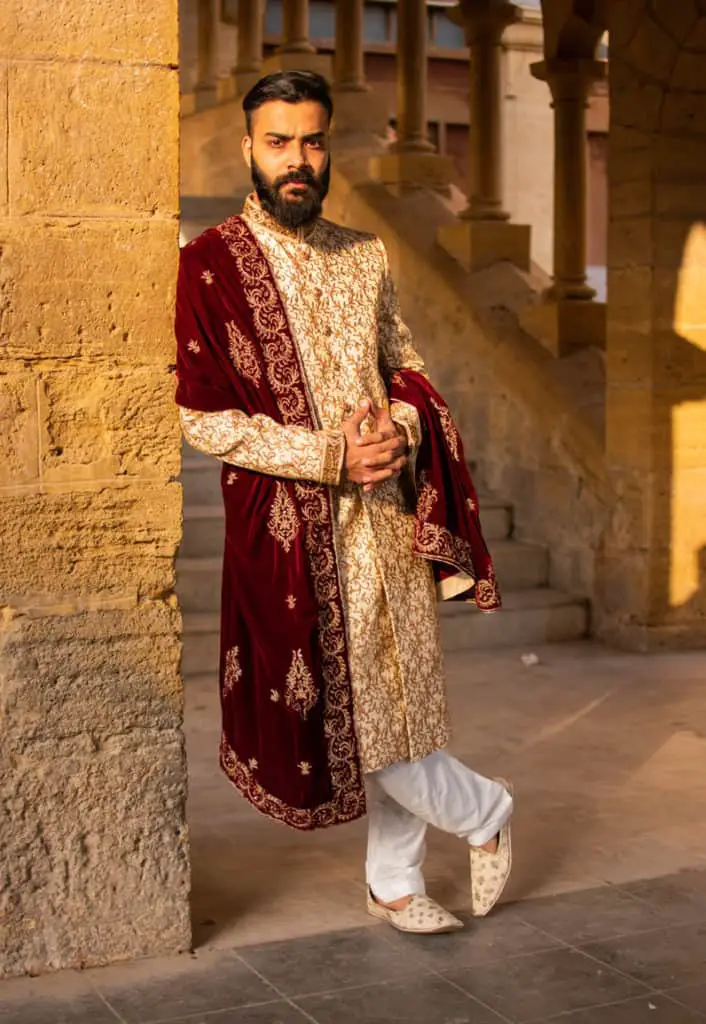 Here are some of the outfits that Muslim grooms wear based on the ceremony.
Nikah Outfits
The nikah is the most critical part of the wedding. Therefore, you need to look your best and ensure that you are presentable before your in-laws, family, and friends. Doing so ascertains that you avoid any embarrassments resulting from a poor attire choice. We sorted out our top outfits to help you when making your decision.
The Kurta
It is a simple men's wear, unique compared to other attires, from the fantastic design, cuts, and style. However simple the kurta may look, you can feel comfortable and composed, leaving you with pronounced masculinity, which is so attractive. You can decide to complement it with other incredible pieces to achieve a unique look.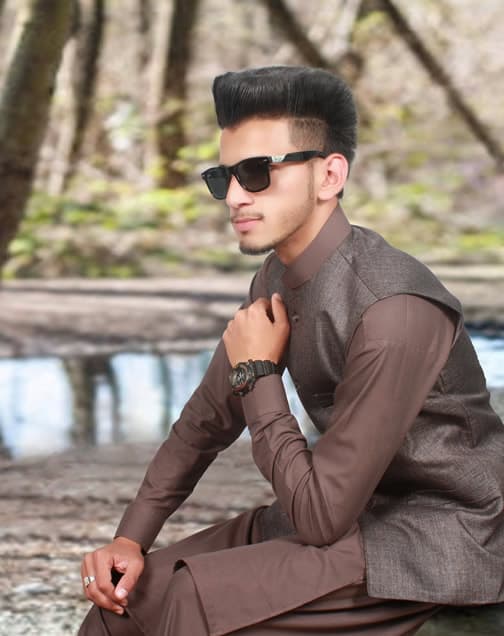 The pajama and kurta combination is more traditional, but it never goes out of season. A white cotton kurta or a plain one with prints may help bring out an impressive and sparkling look. This ensemble, however, may need a bit of a professional touch and carefulness.
You can also celebrate the nikah with an embroidered kurta. It is a trending look, simple and light, making it perfect for the ceremony. Your embroidery can be of various colors such as grey, black, or brown, so it's upon you to choose your preferred taste. Designers mostly place embroideries at the kurta's neckline, pocket edges, and around the sleeves.
Similarly, a combination of dupatta and kurta may also enhance your look to give you a sense of regal and importance. You can decide to be creative with your choices; for instance, you can match your dupatta's color with that of the bride's gown. Otherwise, you can go for a red dupatta, which blends well with a white kurta.
The Butt Muneeb Nikah Look
Muneeb, an actor, introduced a new groom's attire, a cream-colored shalwar kameez with a printed waistcoat. This fashion is a unique trending style for men since many people tend to follow and imitate celebrities' styles. The order is simple; you wear classy shoes, a printed or woven waistcoat, the pajama, have a dapper hairstyle, and top it up with glasses. You get a trendy yet sophisticated outfit.
The Green Salwar Kameez Coupled With a Maroon Waistcoat
Colors are essential to the Muslim world; green symbolizing nature and life. Therefore, this is a great color to incorporate into your outfit. Since the embroidered attires are trending, a green all thread embroidered kurta can be perfect for your nikah ceremony.
You may also enhance your look by adding a waistcoat, probably maroon, to match. The waistcoat can have gold embroideries on the collar, sleeves' tip, and below the waist.
Pink Groom Dress
If your bride is wearing a gown with bold colors like pink, you may decide to match your attire to hers by getting a complementing outfit. It doesn't need to be identical to it; it may be a kurta with a similar shade.
Moreover, pink can work for both of you, and it will be perfect if it matches your theme. You can go for a pink kurta dress with some white elements, and possibly with decorations to make it more sparkly.
Sherwani Coat
The attire has been in the market for some time now, and every time, it has minor twists of elegance and uniqueness; this coat is perfect for both your baarat and nikah events. The sherwani outfit is adjustable to a version you desire and can still serve your fashion purpose. Each sherwani also comes with detailed embroideries from which you can choose the one that suits you.
Waistcoats
Just like women would want to look breathtaking on their wedding day, so do men. An excellent choice for the wedding would be the waistcoat that depicts a great fashion sense. For a perfect nikah ceremony, a waistcoat worn over the kurta or sherwani kameez can go a long way to highlight your fashion sense.
There are various types of waistcoats in the market, each with a unique size and color. Whether you are getting it off the rack or having it custom-made, you are sure to have a great piece. To add more elegance and charm to this attire, you can add embroideries to it. Similarly, you can wear it with an item of balancing color, like a white kurta underneath; this may blend well with a red waistcoat.
The Suit
To make you look more official and proper, we encourage that you go for a suit. This choice will give you more class and a manly appearance on your big day. Therefore, consider making a well-fitting suit for your nikah. You may decide to be a bit casual for the nikah celebrations and go for an American style cut with different shades such as brown, grey, or black.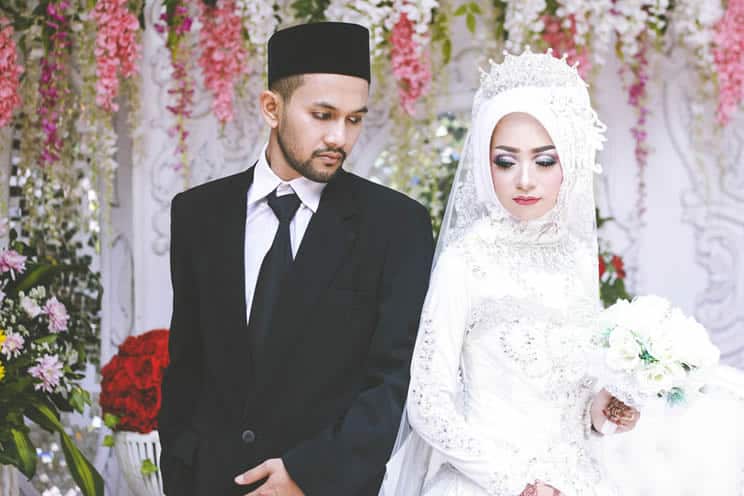 You can also decide to give the garment more life hinting at a color that contrasts to that hue of your suits, like lovely subdued tints of color for your tie and shirt. It is also possible to settle for a vest suit; pairing your coat with a vest will bring a more western style if you are not going for the traditional wear.
A Galaband Coat and a Flared Salwar
A closed neck coat (galaband) and a flared salwar make an excellent combination for any groom. Strive to ensure that the salwar and your jacket have different colors for a tremendous complementing look.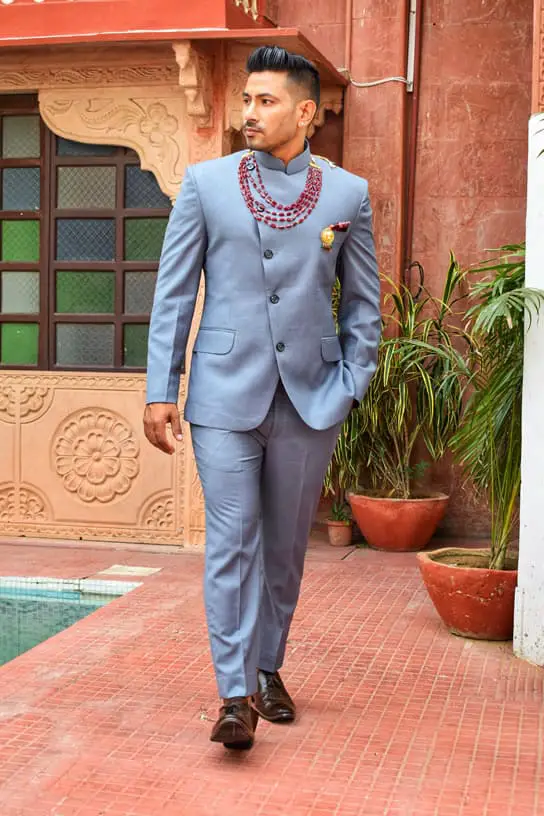 For more regal, the coat and salwar should have a contrasting shade, but for a more eye-catching style, you can incorporate a piece of your salwar into the jacket. This look is vibrant yet straightforward to make you look dashing on your wedding day.
Royal Sherwani
A sherwani brocade made of a pale purple hue is fit for a royal look. To make it even more glamorous, you can add a pair of necklaces and a dupatta. The dupatta must be in a contrasting color with the sherwani, like gold or maroon, for a better appearance.
The kurta also comes with a woven design, probably on the collar and the button line. This royal regal will make you feel like a king on your wedding day; it may mark a long-lasting memory in your life. It helps that in some Muslim communities, the bride and groom are treated like royalty by their friends and family on this special day.
Walima Outfits
If a walima celebration has to occur immediately after the nikah and in an indoor setup, traditional outfits like shalwar kameez, waistcoat, pajamas, and kurta are the best options.
However, if it is an outdoor celebration in commercial venues, the suit will be a brilliant idea, especially if you are inclined to the modern style; either a three-piece ensemble or a simple coat with pants and a coat.
Grooms in contemporary society prefer wearing suits since they are trendy and will always be in fashion. For the color, you can play around with your favorites. However, you can never go wrong with black, brown, blue, and white-colored suits.
There are so many off the rack attires, each with unique styles and designs. To enhance your personality, we advise that you pick a non-traditional choice so that you can stand out more. For instance, you can go for a white shirt with blue pants coupled with a pink or red/maroon tie.
In case you intend to blend your attire with that of the bride, you can pick blue pants, whereas the bride goes for a white gown with embroideries. Another choice may be a Maroon pant-coat, which is quite eye-catching, and being that you are the center of interest, you should stand out.
Similarly, a maroon coat is an elegant choice, so you can quickly wear it for your barat and nikah ceremonies. You can vest it and accompany it with a white shirt, but if you want to be more casual, then you can pair it with a black shirt or any other color that blends.
It is also worth noting that most men love dark colors. Hence, a black coat is so standard. Besides, it can auger well with numerous shirt shades. It is also a universal color that goes well with any other color choice.
A royal blue coat is more appropriate in case you needed your walima to look more formal. This coat matches nicely with a white shirt to give you a breathtaking appearance. On the other hand, an off-white coat pair well with contrasting hues such as black or maroon, making you look fashionable.
Similarly, a brown pant -coat combined with light colors like cream white brings out a perfect ensemble; brown is also a symbol of honesty and warmth among the Muslims.
Most people assume that a man with a great sense of style is a true gentleman; this is what the groom should aim for in his dress code. At your walima celebrations, you can decide to go for the traditional waistcoat, kurta pajamas, and shalwar; however, you can still switch up your style and go for a modern look.
However, if you aim for conventional apparel, then the following options will be great; khusa and shalwar kameez, waistcoat and a shalwar kameez, or a waistcoat, pajama, and kurta.
Fashion Dos and Don'ts for a Muslim Groom 
Most grooms unknowingly make mistakes regarding their wardrobe choices. Here's a list of some dos and don'ts to help you in your quest to find the most appropriate attire.
You may want to pick the attire two or three months before your wedding day, this way, you won't have any inconveniences, and you will have ample time to deal with any needed alterations.
Stay true to your personality, especially in the color choices and the accessories; this way, you can be comfortable during the entire wedding.
Whichever attire you go with, ensure that you stand out from your procession and the other guests. Also, be keen when coordinating outfits with the bride; the aim is to compliment her look, not copy it.
Select the right shirt if you are going for a modern look and be keen on the color choice; however, you can never go wrong with a bold colored shirt.
If you are lean, avoid shirts with vertical stripes since they will make you look slimmer.
We advise that you avoid wearing black as most Muslims associate it with mourning. Given that a wedding is a joyful occasion, go for cheerful and bold colors instead.
Be careful if you wish to blend conventional and modern styles; you need to pick pieces that match, else, your entire look may be out of place.
If you are wearing a suit, it will help if you try other colors apart from the typical black and white. It will help you stand out more and enable you to play around with your favorite colors.
The three-piece suit will always come in handy since you can easily remove the jacket and look elegant with just the waistcoat during the walima. Otherwise, you can go jacketless and still achieve a great look.
Consider the season that your wedding is. It will guide you in choosing your attire's material and color; the fabric should be lighter during summer and heavier during winter.
The key is to get the perfect fit for the whole ensemble. First, ensure that the pants sit nicely on the shoes to be comfortable whenever you sit or stand. Next, your shirt and jacket collar should be of the same level, and the jacket should be figure-hugging, especially on your shoulders, but not too tight. There are many activities in both sections of the wedding, so it would help to get the perfect fit.
Always be coordinated in your choices; you should synchronize the entire look; else you will misplace an item of clothing. Ascertain that your shoes and your accessories match with the whole outfit.
Always consider the timing of events at the wedding. If the nikah and the walima are on different days, then you may need a whole new wardrobe for the next day. In contrast, you can have the same attire if it is a one-day event.
Finally
A Muslim wedding is an extravagant celebration. Therefore, you have to look your best. As long as your attire is decent, whether modern or traditional, you are within the rules that govern Islam marriage ceremonies.
The outfit should fully cover your skin, and it should have a high neckline, which is the case for a woven kurta dress. If the wedding ceremony is in a conservative environment, you may have to wear traditional Islam attire like the salwar kameez.
We have provided you with our complete guide in matters of Muslim grooms' attires, so it's up to you to discern for yourself which will be more appropriate. The ultimate goal is to find a wear that blends with the function but still stands out. Whether you are going for a traditional outfit or a modern suit, remember that you can always add a personal touch.